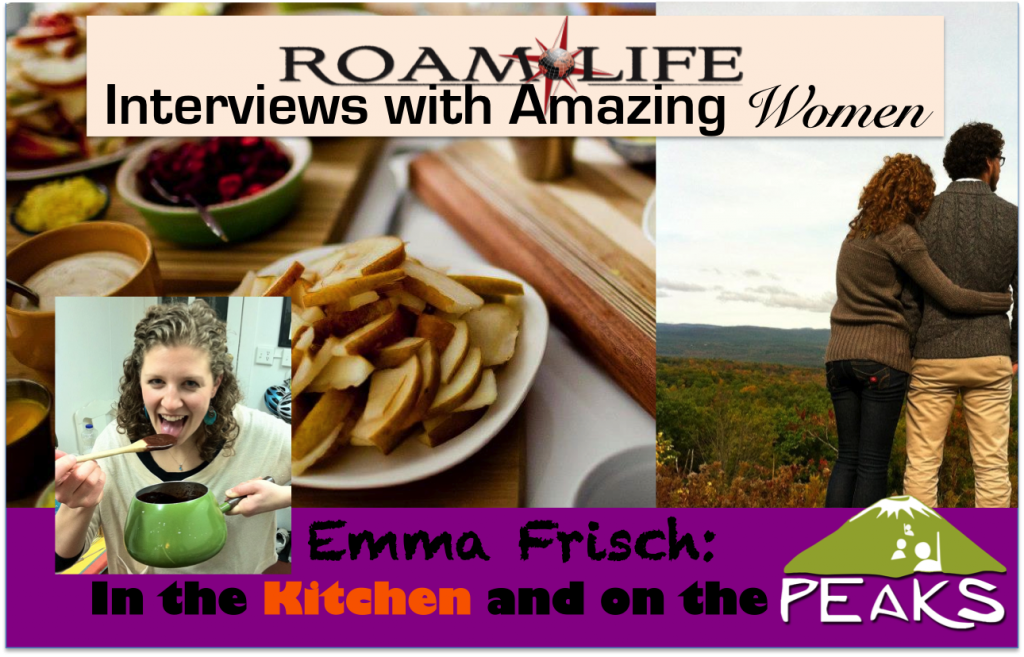 by Christine Perigen | January 16, 2013
Emma Frisch's joy is contagious. Her big smile jumps through the phone and makes you think about her delicious cupcakes and the good work she's doing through her organization, PEAKS. Just married and having just attended her twin sister's wedding in the same year, Emma's had a lot of reasons to smile, laugh, and celebrate.
Your wedding photos looked like they were straight out of Wedding Magazine – you couldn't have had a more fun and gorgeous time. Tell us about the event.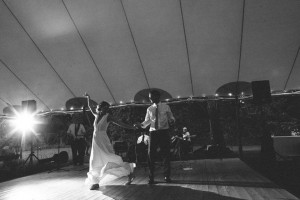 I'm lucky to have married my partner of eight years, Bobby Frisch. We met while we were both at University of Pennsylvania. He is my fellow business partner and project dreamer. We've travelled all over the world together and created all sorts of cool things. He started a hotel that I helped him work on and that's where I opened my first and only restaurant, to date. He's now getting an MBA at Cornell, which is how we came to Ithaca. It's a place we both love.
Did you know you'd be planning such a large wedding?
Absolutely not. I thought it would be small with an intimate group of people. It just didn't turn out that way. We both come from enormous families that we love. We had 125 people attend and the majority were family members.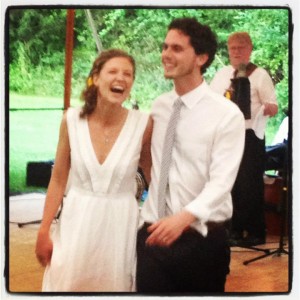 We still managed to stay true to our values. We had the wedding at Millstone Farm, a place I worked at for several years and I'm really close with the owners and farmers. All the food was prepared by our friend who is a chef that partners with the farm and uses food grown from Millstone. All the guests were given a tour of the farm. The wedding tent was made out of used sail cloths. We were married in the horse field amongst horse jumps with a blue grass band playing. We celebrated until the morning with all the people we loved the most.
Your identical twin sister just got married in the same year?!?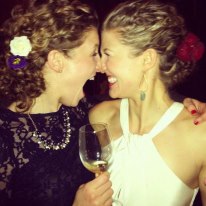 Yes! This was a totally unexpected coincidence. Her husband, Nolan, was planning to propose the same day Bobby proposed to me but Bobby got to it first. So, Nolan pocketed the ring for another four months. Neither of us were expecting it so it was really special to share that process. She had the opposite wedding: a city wedding, half the size of mine, at the Brooklyn Winery. We enjoyed great food and drinks with a multi-cultural and eclectic, amazing group of people.
Twins: is it true that they are telepathic with one another?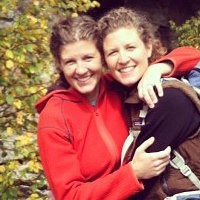 It's true that we are definitely connected. We think and feel the same way. When we share things, we are sharing the joy, burden or sadness. Our lives are uncannily in sync. An example of that was getting engaged and married at the same time. Similar things are always going on like that in our lives. We're connected beyond being best friends. She is part of me. I feel that people don't fully know me until they have met her.
You started an organization called PEAKS. How did it all start?
PEAKS started, quite literally, with the idea of reaching new heights and overcoming major obstacles. My colleagues and fellow mountain hikers, Steve and Chris, and myself saw a unique opportunity to raise money for EkoRural, a small non-profit in Ecuador working on climate change issues with indigenous mountain farmers. Thousands of adventure tourists were pouring into the Andes, with little awareness that the trails they hiked on were farmers' footpaths. We found a way to bridge these two worlds by launching our first climb-a-thon.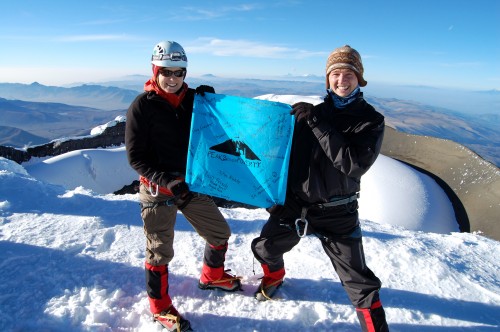 In September of 2010, PEAKS was officially launched. I climbed to the summit of Volcano Cotopaxi, which is nearly 20,000 ft. Steve and two friends ran the "seven hills run" in the Netherlands. Another group of climbers in Colorado climbed a series of peaks. We shared our stories and pictures with family and friends through the PEAKS website, and collectively raised over $10,000 for EkoRural. For me, PEAKS was a way to combine two of my greatest passions: climbing and agriculture. After our launch, I took on the lead role for PEAKS development.
What have you learned from starting your own company?
The biggest lesson for me is this: you need to have a really committed and solid team working together to achieve success. I felt like I was flailing on my own alongside a full time job for quite some time; our volunteers and board members were incredible, but having salaried team members that you can depend on is critical for growth. The past six months of growth have proven this for me. But I am really appreciative of the people who have helped build PEAKS since the start. PEAK has been a team effort through and through.
What are the most successful campaigns on Peaks?
 Sustainable Neighborhoods Nicaragua, a student group that is part of Cornell University's Sustainable Design Program, recently raised $25,000 to build an ecological housing community in Nicaragua. Eight days into their PEAKS Campaign they raised over $5,000, and hit their $25,000 goal in less than 45 days. We didn't have a single customer support question from over 60 Champions and nearly 300 donors!
You have a side project that I love reading about: Cayuga St. Kitchen.
Food is my biggest passion. More so than rock climbing or anything outdoors.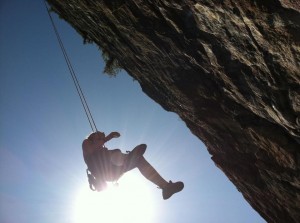 It's my creative outlet where I can share food adventures I have with family and friends. I love cooking and I love eating even more. I've been involved in farming systems since I was 18 and in college. Cayuga St. Kitchen is a fun way to bring all that experience together and give myself an excuse to keep learning…and cook more food.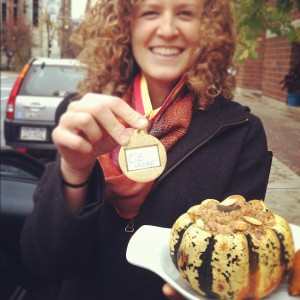 What has been the most fun dish you have created?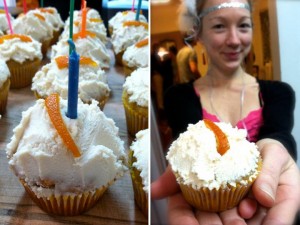 This past weekend we made vegan and gluten free cupcakes for a friend's birthday. It was like learning how to cook for the first time. I had to use totally new ingredients. Gluten free cooking is a totally different pantry. I found myself cooking with potato starch and xanthan gum. I had to clear the whole food bank and start from scratch and use my own flavors. I was determined to not stick to the recipe. The frosting was supposed to be a vanilla frosting but I turned the frosting into almond cream. It was fun to light all of them with candles and eat them together and celebrate.
Where do you find your ingredients?
 Food is so much about the story and where it comes from. It's important to cook with quality ingredients; it makes a difference. The food I use always has story or is connected to people I know. I love going to The Piggery and I know Heather, the owner. She tells me about the meats and they raise these incredible pigs in environmentally and animal friendly way. I'm always asking where the best Brie is or where the best food comes from. I try to buy food from anywhere and everywhere: Asian market, Ithaca Farmer's Market, I'm always looking to try something new. It's an adventure every time.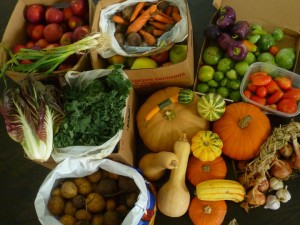 What change do you want to bring to the world?
It's hard to know if you are actually creating change. The change I want to create is helping people feel empowered to make change happen themselves. Giving people tools and space to feel confident in making their dream and mission come alive.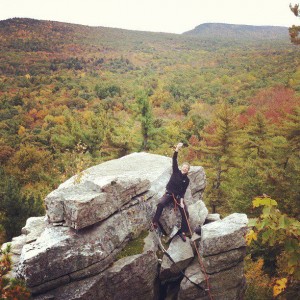 Through Peaks, it is those little encounters that happen now and then that make you realize you are making change happen. Sometimes there are weeks or months where I feel that this is a dream in my head and it's not actually creating any change but then someone will write us a letter and let us know that they think it's amazing and they met their goal and they'll thank us. There are lots of moments that show it is the little things that matter and if you keep plugging forward with your dream then you can create change.
What is your travel essential when you are on the road?
My advice is to pack as light as possible and be open to any new experience. One thing I have to bring with me…[long pause]…I know!! My fanny pack. Dead serious. I can't believe I didn't think of that. I have the coolest one. Everyone should have a classy little fanny pack to store all your valuables and what you need on hand. None of that stuff under your waistband.
When in Ecuador…do you Crumple or Fold?
I'm a crumpler. I wish I was a folder. I'd probably use less. I guess I could be an in between but I'm more of a crumpler.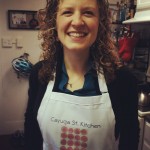 Emma Frisch is the Director and Co-Founder of PEAKS, an organization that provides the platform and audience for your fundraising campaigns. She also manages her food blog, Cayuga St. Kitchen and continually is experimenting with ingredients to make new dishes. She lives in Ithaca with her husband, Bobby.
For more information on Emma, PEAKS, or Cayuga St. Kitchen, click on the links!
2013 Roam Life, Inc. All Rights Reserved.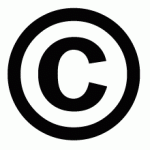 Upcoming Adventure: Sign up today!