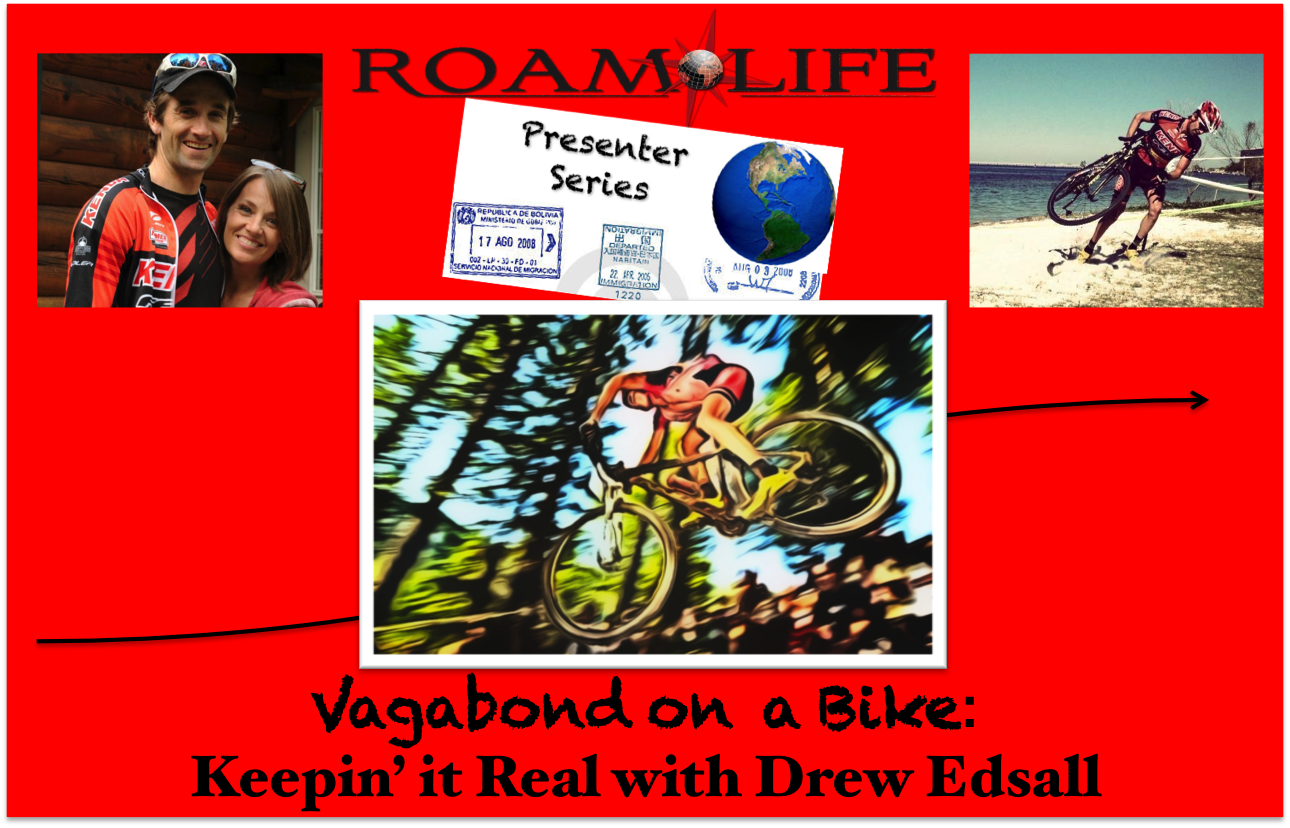 by Christine Perigen | January 16, 2013
Drew Edsall is an understated guy that should be over-stated. He works hard at being good at what he does and it makes him really good at stuff. Drew has incredible work ethic and for every race he's won he's spent ten times as long preparing for it. From helping out on his family's orange farm during the off-season to traveling around in his Sprinter RV from race to race, Drew still finds time to reach out and support others that are passionate about cycling. We caught up with Drew during a Starbucks break in the middle of his training ride on a Wednesday night.
So, we did a little Internet stalking on you and prepared some questions.
I bet you found my crash, right? Did you see the crash? It's the most popular thing people look at. That video got the most views out of anything. Everybody likes extreme sports.

Watch more video of Lumberjack 100 2012 on thom.cyclingdirt.org
On Mountain Bike Radio we talked about the "Best of 2012" and I wish they made cross-country racing more extreme. They should make the downhills more difficult. The pros crash more on the downhills and people want to see other people crash. It makes it more of a spectator sport. [Editor's Note: Drew started hosting a mountain bike show on MTB Radio in 2012]
Being as you are in your off season right now, I'm assuming your crash liability has gone way down. Other than training the Roam Life crew, what else do you have going on?
 Off-season for me is insane. Let's go back 10 years. I went to college in Gettysburg, PA and studied exercise science and I was a decathlete. I've dropped 40 pounds since then and transformed my body to a skinny cyclist. After college, I got stuck in the family orange business.
I like to work hard and a lot.
I was planning on doing the complete opposite. My dad called me and said that out of the three brothers, I fit the job the best. My dad was asking me a favor and I took the offer and got pulled down into Florida. It was the last place I wanted to be because I had just gotten into triathlons and I wanted to be in Colorado. I went full time into the orange business and started mountain biking. Two years later, I went pro.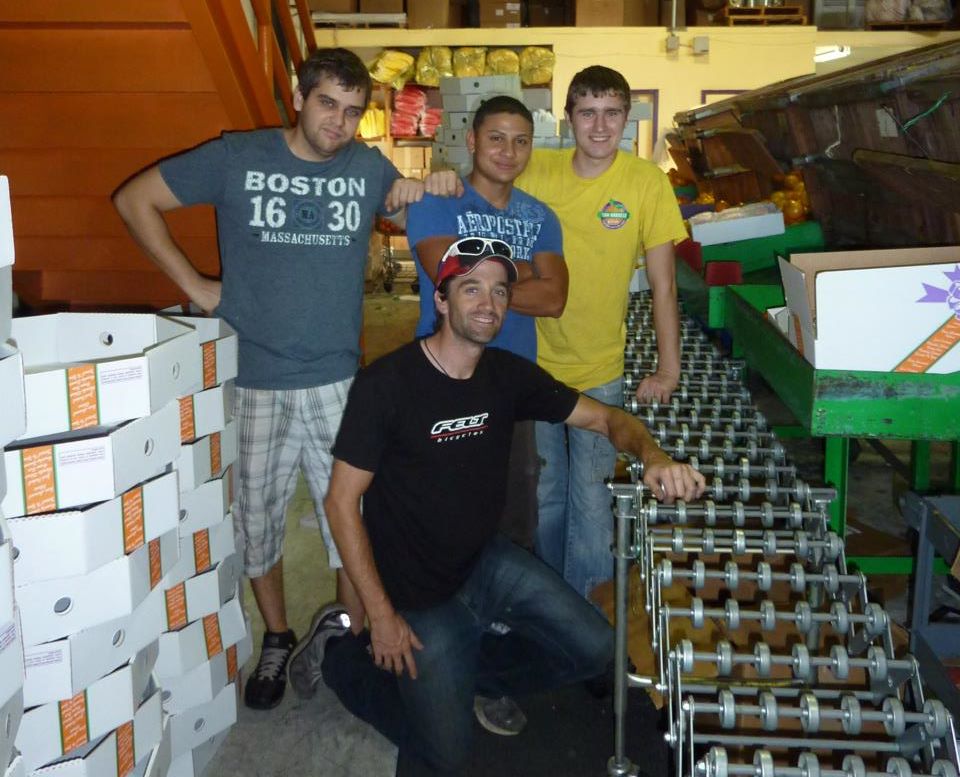 I told Dad I would do the orange business in the off season while coaching [athletes]. Since then, I've been living on the road.
Coaching seems to be your calling and we like you quite a lot so far. What have you learned from athletes you coach?
As a coach I'm a listener and a lot of times I'm learning from what my athletes want and how they are by asking questions.
Coaching allows you to learn about all different types of personalities. Some people are extremely organized with high work ethics and then some people can do extremely well but are the complete opposite. I try to accommodate to each individual athlete, learn who they are, and use that to help build them stronger and also build future athletes stronger from what I learn.
I had an RV at the time and always thought it would be so cool to live on the road.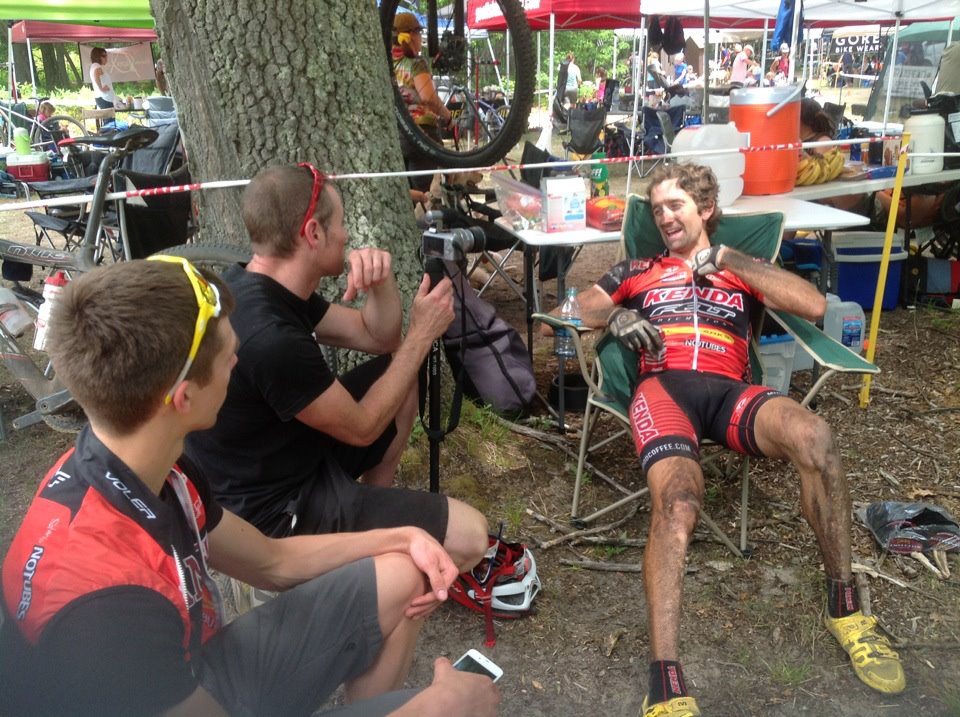 This last year I learned a lot about myself and try to use that to apply those learning experiences to coaching also. I was so obsessed with building my career on the new team and coaching that I think it hurt me. I was so set on "gotta get results" that I raced so much I hurt myself more than not. For 2013, I'm more relaxed but I want to be more focused this year on getting really, really good results and less on tons of racing around the Nation.
You seem like a happily busy man. Describe your average day.
I coach about 20 to 30 athletes during the year and professionally mountain bike race. In the off-season, I combine those two and take on a third job of working in the family orange business, which adds another 40-90 hours a week of work. The last six weeks consisted of waking up at 6am to do coaching. Then, grab breakfast and do coaching work at the same time. After that, I start my other job in the orange business at 8am. I'll work until 4:30pm or sometimes 8 or 8:30 or even 10, then I go straight from that job to walking the dog and hop back to coaching and then ride the bike. I go to bed sometime between 10pm and midnight and then repeat. No breaks to watch TV, relax, or do anything else.
We lived with two dogs in an RV for two years straight. We spent a lot of time in Wal-Mart parking lots with Redbox DVDs or parked by the train tracks.
In the off-season, how much riding do you normally do?
This week I got 20 hours of riding in, but most of the time it's closer to 4-10 hours. I try to make the most out of the time I have. January is the toughest month because I get lots of new clients, work at the orange business is still busy, and I am trying to get ready for my racing career putting hours in. Tough!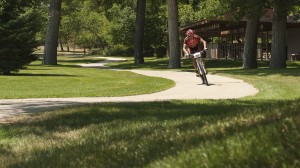 You have been traveling with your dogs and girlfriend during the race season in an RV for the last couple of years. What's that like?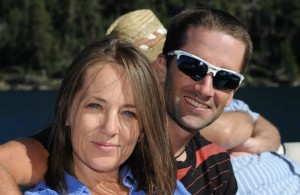 We [Dyan, Drew, and dogs] lived in Durango for a few years and I was building a business coaching, I had this job in Florida in the off season, and pro riding. I was doing pretty good but then Dyan lost her job because the place went out of business. I had an RV at the time and always thought it would be so cool to live on the road. First, I was racing a lot and all over the place. If I wanted to race that much, I had to live on the road. There was no way we could afford it if I didn't do that. So we sold a lot of things, packed everything we could in the RV, and went off. Awesome feeling!
Dyan just got a new job in St. Louis which means I don't have to be on the road anymore which is nice but I will probably travel a lot, too. Once you find the good trails you have to go back sometime!
I saw so many trails and now I know where I want to ride. There are so many amazing places.
What's your home on wheels like?
We are in a Sprinter right now. It's great on gas at 14-15 mpg and easy to drive. It's got everything in it from a stove, to microwave, small bathroom, and sink. We enjoy it while on the road but aren't living in it 24/7. When we were, we'd even rent hotel rooms occasionally just to get out of that because it's hard when you are in there 24/7, without running water and all the little things that add up. I always wanted to do it and I did and I'm so glad for that but living full time in an RV is tough. We never took time off. It was two years straight with no break. If you take a couple of months off then it isn't as bad.
Most people don't realize that biking is a business. I do it because I love it but it's also a job.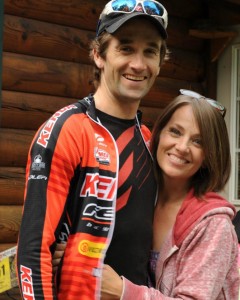 We traveled from Florida to Arizona to Texas to California, then back to Pennsylvania, then back out West. We went all over the Nation. We visited so many different states where we got to ride. I saw so many trails and now I know where I want to ride. There are so many amazing places. Everywhere has their cool trails that separate them from other places. Even Florida has cool trails. Not a lot of views, but cool trails…and alligators!
Your vagabond life has slowed down and you're living in a city now. How have you accustomed to the change?
I never thought I'd want to live in a big city but we're really enjoying St. Louis. We're going out to eat and enjoying learning about the city. Lots of coffee right down the road including my regular quad espresso. Love that.
One of the downsides of living in an RV is that it's such a small space so it's hard to recover. We were always trying to find places to stay. In California it was ridiculous. RV parks were $60-70 a night so we would park in random areas and I wouldn't sleep as well. Living in an apartment in the city is much nicer than expected.
Let's switch gears. (Get it? Switch gears…) You were just signed on to Kenda/Felt again for 2013.
Getting re-signed on to Kenda/Felt was a really good feeling. I was hesitant about what might happen at the beginning of 2012, but after that I had some pretty good results. I had two mechanicals in my first race which gave me a bad start. I had another mechanical the next big race so things turned all horrible. I refocused, stayed positive, and pressed on. I put things in gear after that and had some wins in endurance racing, which surprised me, and I focused on endurance racing from then on. I also worked on promoting myself on Facebook, mtbracenews.com and now on my own show "The Dirt with Drew Edsall" on Mountain Bike Radio.
Felt Bicycles has a few new bikes out including the Felt Nine Hardtail and the Edict Nine. And Kenda has some new tires out including the 24 Seven Race I will be using along with my trusted Kozmik Lite II. All in all, very exciting to be a part of the team again.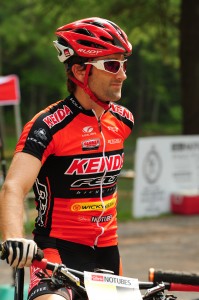 Most people don't realize that biking is a business. I do it because I love it but it's also a job. I work hard at it so I can keep it. Getting ready for 2013, a lot of the relationships with sponsors and teams developed all the way back in August. If anyone is reading this and looking for sponsors, you have to start early. Biking at the Pro level is a business.  Teams and companies look for resumes and have an idea of who they want back in September through November. After that you are going after the leftovers.
You have to have the results, and then also make the most out of every minute you are on and off the bike.
I treat this as a job. If I'm not on the bike I do things off the bike that will help me. I take control of what I can control. Racing isn't always in my control. But coaching, promoting myself, talking to sponsors, MTB Race News, advertising are…I try to network as much as possible and establish relationships and coach.
Getting over that small hump at the beginning of the year was challenging, but once I did I was fairly confident I would be back on the team for 2013.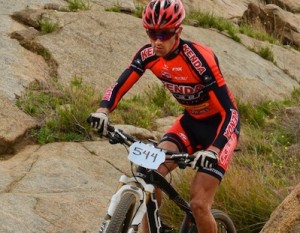 Is it hard to stay in mountain bike racing? Do you have to work hard to stay in it?
I think it is. Like any job everyone is fighting for your spot especially at the top tier of mountain bike racing. I raced way too much this past year which was good, but I didn't rest enough. I was riding too much and I wasn't recovering enough.  This sport is very competitive. Everyone is fighting for the top spots. Once in, it's easier to stay in if you do your work. By getting on the Kenda/Felt Team, I was able to network a lot easier and I was meeting all these new people. Before you know it I was going to Sea Otter and talking to people all over the place. You have to have the results, and then also make the most out of every minute you are on and off the bike.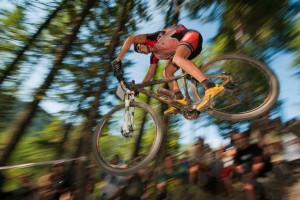 If you get on a team and you want to stay on it, don't just think about it as getting on a bike and riding. It's more than that unless you are someone like Todd Wells. Results help, but it always helps to have good relationships with bike companies and work hard off the bike. Being a proactive advocate for the companies you race for can really help you keep your job.
My dream job would be for a team to come and say, "Hey, all you have to do is stage races this year."
One of the things that Dyan (Drew's girlfriend) helped me with the most in 2012 was helping to develop my websites and she has been doing all the photography. Almost everything on Mountain Bike Racing News is from her. I wouldn't have made it without her helping me. It all goes back to marketing, and promoting myself, my team, and the companies I race for.
What's your dream event that you've never done before?
There is a lot out there, not a single one I can narrow it down to. Stage races are awesome! I want to do BC Bike Race. Definitely. Awesome singletrack. I normally do really well when I am extremely challenged so La Ruta de Los Conquistadores is on my bucket list also. I like the challenge of waking up at 5am and working hard every day. I used to surf as a kid and I was the first kid up and out on the surf. Early challenging mornings get me going. I see La Ruta as a big challenge but I also might move toward something like the Cape Epic: a big challenging stage race with the best competitors in the world there.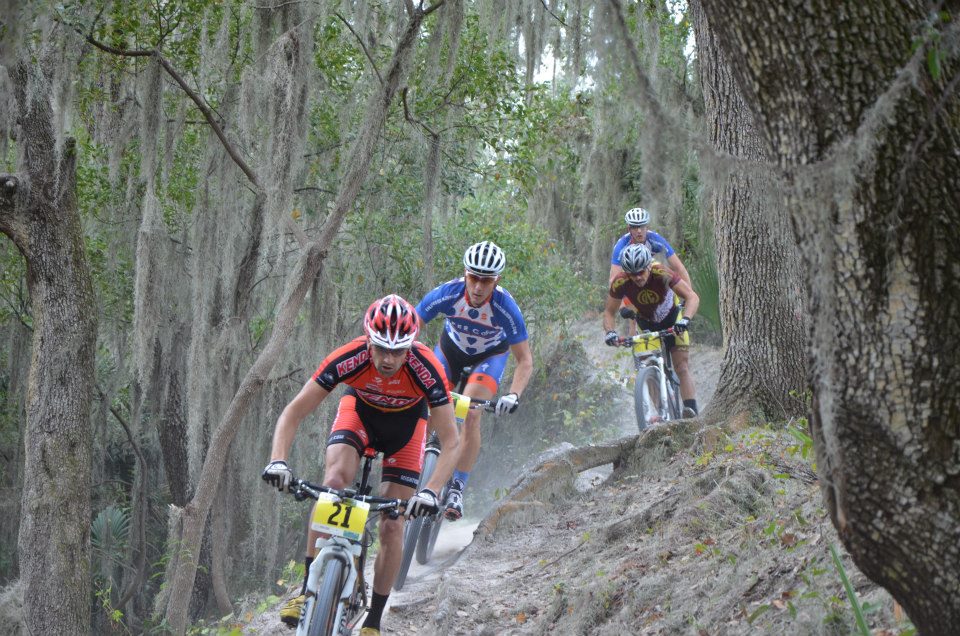 My dream job would be for a team to come and say, "Hey, all you have to do is stage races this year." You are riding hard but aren't riding so hard you can't talk to a person. You get to talk with guys like Jeremiah Bishop who I used to watch videos of. In my first stage race in 2009 at the Transylvania Epic Stage race, I was talking to that guy and racing side by side. You eat at the same table as the pro riders, you get to talk to them, share experiences, meet them and learn that they are all just really cool guys. We are normal people doing the same thing you do, which is riding your bike and having a good time. Other than the pain at stage races, you are really enjoying it.I got hooked and have been back every year. The Transylvania Epic is a lot of challenging East coast single track, 7 days in a row. It's a vacation on wheels. Instead of paying to ride by yourself on a vacation, you ride on single track with others, and can race if you want…or drink beers if that's your style.
You started being a part of the MTB Radio scene. What's that about?
This last year, at TSE, they wanted some pros to get on MTB Radio. I thought, "This is so cool." I know all these pro riders and have these connections so I thought, "Let's run it by them and see if I can start a show."
I ran it by Mountain Bike Radio and they said "Absolutely!" and we got started on it. It's been a way to create more exposure, help out friends of mine who are pros, and promote sponsors' equipment while helping the average person by talking about nutrition, equipment, and training. It also gives me something to think about while riding countless hours!
The Transylvania Epic is a lot of challenging East coast single track, 7 days in a row. It's a vacation on wheels.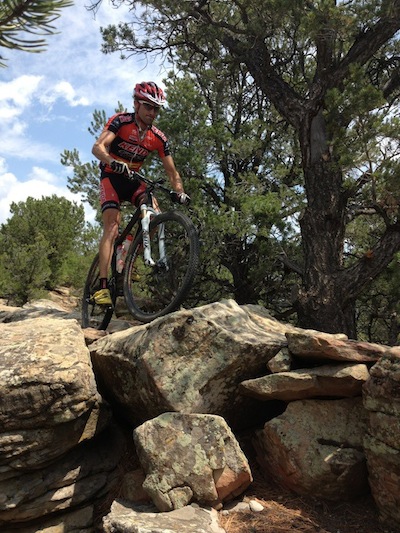 Finish the sentence: "When the going gets tough…"
Go harder?!? From a coaching and rider perspective, stay positive. Everyone is different. I talk to myself and will yell at myself. If I'm yelling, that means I'm hurting. Positive self-talk is huge for whatever sport you are in. It's the most beneficial thing you can do when you are hurting. In a 100 mile mountain bike race you are going to hurt no matter who you are. Whether you are the best or the worst biker out there, you are going to hurt. When you start to hurt, you have to know what to tell yourself. You've got to get yourself thinking positive. "Come on." "Let's go." You have to tell yourself to go faster and not focus on the hurting. The mind is a crazy tool if you use it right. 
You are sitting at a Starbucks at 8:30 at night with only a portion of your training ride done. I can't help but think, "Man, I hope he is lit up like a Christmas tree." When we heard of Burry Stander's accident, we were floored. We had spent 7 days getting to know him as an athlete at Cape Epic.
What happened to Burry was horrible. He was an incredible rider and a great person. My prayers are with him and his family, and to every other rider out there that has ever been hit. It happens far too often.
Riding on the road can be a bit of a nightmare at times. I just do everything possible to avoid any close interactions with cars.
Here are a few things I try to do: Use bike paths off the road as often as possible including sidewalks if needed, at night I use two back lights and one 1,000 lumen front light. I try to ride only safe/well known areas, and I try to remain a very defensive/aware rider at all times.
If a car wants to be a dick, I let them, give them a sarcastic wave, and continue on my merry way!
So far, I have only been hit once and that was when I was actually riding the sidewalk trying to commute from one bike lane to another. No serious damage other then an insurance bill for the car driver for the $6,000 bike frame!
One trick I think leads to less encounters with cars for me is that I tend to ride my mountain bike on the road a lot. This helps me feel comfortable riding sidewalks and off road when needed. When things get crazy, instead of freaking out and being stuck on the road, I hop onto a curb or off road on the mountain bike! I play a super defensive position on the road even when in the bike lanes, and try to respect the cars. We have every right to be on the road, but we also can be shattered to pieces with one small mistake. I don't take that for granted and would rather be safe then sorry.
If a car wants to be a dick, I let them, give them a sarcastic wave, and continue on my merry way! You just can't control some things and getting pissed off about it only makes the situation worse. Relax, stay alert, and have fun on the bike! Don't let a crazy driver destroy your ride by pissing you off!
We ask everyone: Do you Crumple or Fold?
[Laugh]. Fold. I guess. Yea, I'm an organizer. Big time. I have to have things organized. Even e-mail. One of the coolest things about coaching is that I get to work with a lot of people and become friends with them. A lot of then are business savvy and I've learned a lot from my 40-50 year old friends who have developed their own businesses. They taught me how to organize my e-mail. When I have organization it's so efficient. I don't know how I could do all of this without organization. I wouldn't' get anything done.
I've never had that question. Very interesting…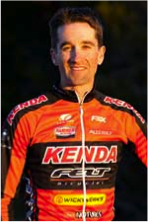 Drew Edsall is a professional mountain bike racer for the Kenda/Felt Team. He is also an athletic coach that has helped athletes reach the podium more than 150 times in two years. He is now calling St. Louis home and lives with three dogs, his girlfriend Dyan and Dyan's 15 year old daughter, Sabrina.
For more information on Drew:
 http://www.mountainbikeradio.com/
http://www.coachdrewedsall.com/