Christine Fonner | June 21, 2014

My Love for Swiftwick Runs Deep
About a year ago, I started exclusively only wearing Swiftwick socks. It wasn't a conscious decision – they were just more comfortable so when I would look in the sock bin and eye all the sock options, I inevitably would pick up a pair of Swiftwick until, one day, there were just no other socks except for Swiftwick.
So, it's with no great surprise that when I was packing my carry-on bag for a nine-day stage race in South Africa, that, without hesitation, I piled in all the Swiftwick socks a girl could need and then decided to also throw in my Swiftwick Arm Sleeves as well.
You Don't Know About Swiftwick Arm Sleeves??
Ah, the arm sleeves. Not arm warmers. These nifty little sleeves do much more than keep your arms warm. If it was cold out, I would throw them on and marvel at their stretchiness. They kept my arms warm. If it got hot out, I would forget I even had them on until I was properly sweating up hill. They kept my arms cool. They breathed really well. They protect from sun burn. They never seem to smell and are incredibly comfortable. I was in love.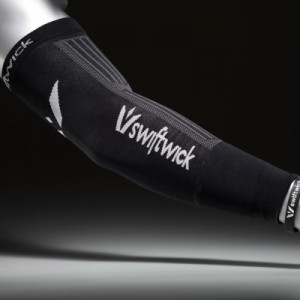 I had learned to use the arm sleeves often. All the time. On all my rides. My Swiftwick arm sleeves (seen or unseen) have been part of many amazing friendship driven adventures and life moments (my wedding engagement, bottom left!). I've become emotionally attached!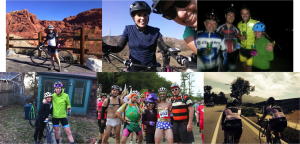 I knew they breathed well, were stretchy, and you could wear them for a long time and not feel hot when the sun was beating down on you. But I can't begin to tell you how much MORE grateful I was that I brought these little arm sleeves to South Africa for the JoBerg2c Mountain Bike stage race, especially after wearing them for 9 days straight.
South Africa's JoBerg2c – 9 Days, 900 kilometers
South Africa's JoBerg2c 9-Day Mountain Bike stage race is no joke. It takes you from Johannesburg, South Africa all the way to Scottburgh, at the ocean. 900 kilometers over 9 days with many of those days climbing you up and over the mountains of the Free State. 99.5% of the route is off-road. Over the course of the race, only 10 kilometers is on actual paved road. It isn't until Day 6 that you finally get to see some proper descending. The race is an amazing way to see a very diverse (and big!) country.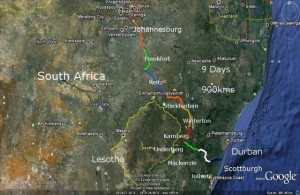 For my partner and I, race was a term we used loosely. For us, it was about finishing every day and enjoying the experience of crossing half a country by bicycle. Over the nine days on a bicycle, we were averaging 7-9 hours on the saddle each day. We become a well-oiled machine and learned what works and what doesn't work. Part of my essential gear were comfortable, breathable socks that could keep the toes warm in the morning and let them breathe once the sun warmed us up and would help in preventing blisters, sores, etc on my much used feet.
I climbed (and sometimes walked) many hills.
It was also essential to have socks (and arm sleeves!) that could get wet and dry quickly. In addition to crossing on top of water, we had to sometimes cross through water. Once, it was up to my stomach!
I crossed floating bridges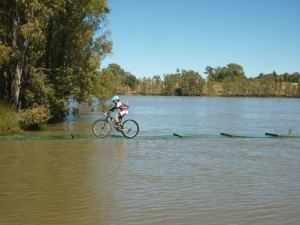 And sometimes had to cross non-existent bridges!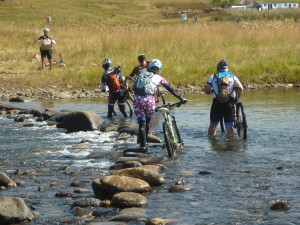 I experienced amazing descents (70 km an hour!) and looked out across amazing vistas.
I froze in the morning and felt scorched in the afternoon.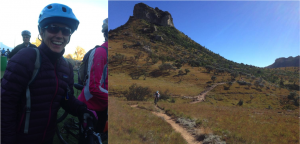 The days were long and challenging…but the singletrack made you holler for more…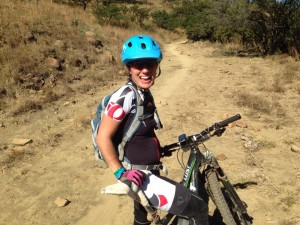 and the people made the experience unforgettable.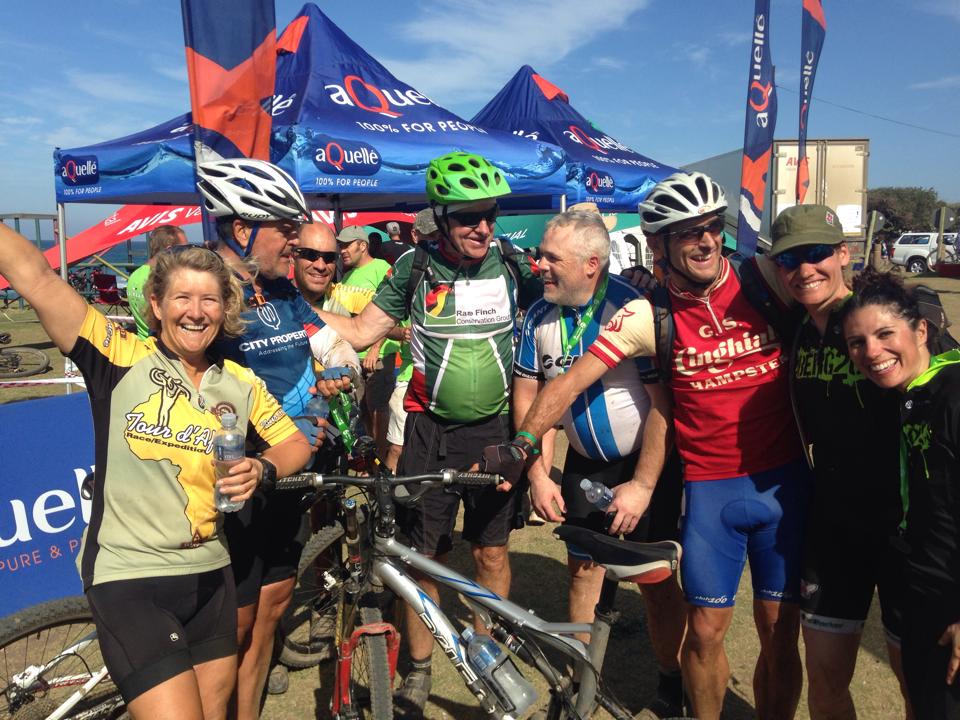 When I came home, I found I was at a loss for words on how to describe such an intimate, challenging, long, and unique experience. How do you explain what 77 miles riding your bicycle feels like? How do I describe the hot wind scorching my lungs as sugar cane leaves smack my face down double track? How do you describe the endless miles of cattle trail and how absolutely uncomfortable single track can be when it's that bumpy?
You can't. Not really. A person has to experience that for themselves. I can tell you that it made me closer to the Earth, to people, and to my bicycle. It made me really grateful for good gear and comfortable clothes. And, most importantly, after all was said and done…it made me look forward to my next adventure on my bicycle.
Do what moves you.
– Christine