by Christine Perigen
Website: www.againstthegrind.com
Jessica and Rachel started a cross-country bicycle tour in September, 2011. Terrified yet anxious, these two women rolled down Rachel's family driveway, each with over 100 pounds of weight to carry down the road on their bikes. Uncertain of the journey ahead and thinking about all the unknowns to come, Rachel and Jessica pedaled away from Wisconsin and headed south.
Catching up with Rachel and Jessica during a break they took in February, Roam Life got to ask a few questions about cycle-touring, what these two have learned on the road, and what they plan to do once the pedals stop turning.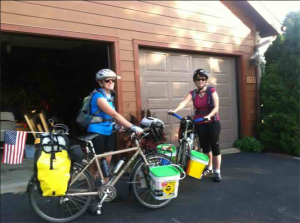 You started planning this cross-country trip because you knew there had to be something more out there for you. So far, what has that something been?
Rachel: I don't know that I would necessarily phrase it that way.  However, I knew that I wasn't satisfied with my life on the path it was headed.  I wanted to do more than just work in film.  I am an activist in my downtime and I find it very important to place meaning into my actions and affect others to do the same.  This was a manifestation of this belief.  We are using our filmmaking skills and storytelling skills to share and encourage other women to think outside their lives and look for something special.
Jessica: I think I was hoping to adopt this nomadic lifestyle and never look back.  In reality, I've discovered that this trip has show me what I miss the most about staying in one place (friends, family, having a full kitchen, not worrying where we're going to sleep at night, etc) and taught me that people who like where they're living and are happy where they are aren't complacent.
What did it feel like to get on the bike and ride down the driveway and out on the road to this huge journey?
Rachel: I was pretty giddy.  I remember thinking, this is really happening! I didn't express this until about 5 miles down the road when we stopped to fill out a permit form for the bike path we were using.  I don't know why, but I wasn't scared or worried, not in the way that I can loose sleep before an international flight or anything.  It just seemed natural since we'd spent so much time building up to this point!
Jessica: I was terrified!!  I was almost in tears because I was so uncertain about if we would actually be able to do this without giving up or getting killed.  I think about a whole month went by before I stopped asking myself every morning, "Can we really do this???".  I also remember feeling extremely excited too, though.  I remember riding past farms in Wisconsin thinking, "This is it!  We're living on our bikes!  This is what total freedom feels like!  All my friends are working, but I'm living on my bike!!"  I think that feeling lasted about a month, too.  But I still get that feeling when I'm somewhere especially beautiful (like New Orleans or Savannah) or doing something amazing (like swimming with manatees or interviewing someone really inspiring), but now the most exciting parts are by far when we're off the bikes.
Putting aside actual dangers and concerns, how did you address the fears and concerns that people may have had about two young women heading out on this bike trip alone?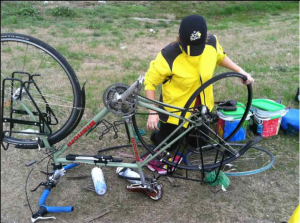 Rachel:  I was always certain they were overreacting.  I can't remember now, though, whether I actually felt like we should take them seriously or not.  At least, not until we were actually on the road in rural Georgia and Tennessee and that little banjo ditty starts playing in my head.  I do remember simply chuckling and telling anyone who expressed concern that we would be checking in on a regular basis, that someone would know where we are at the end of each day and that we were taking a really big knife along with us.  Thankfully, we've been able to prove that the world really isn't that scary so far.  Knock on wood.
Jessica:  I agree with Rachel.  There's nothing we can do but thank people for their concern and try to assure them that it's not as hard or scary as it looks and that we're trying to be as careful as we can.  Everyone always tells us, "Be careful!" and I always respond with, "We try!"  I mean, that's the best we can promise anyone– that we'll try to be careful.
How has the use of bicycles impacted your interaction with people on the road?
Rachel:  I've dubbed this issue "Celebrity and Spectacle."  Either people think what we are doing is immensely cool and think we are the neatest thing since sliced bread or people gawk.  It's a conversation starter that's for sure.  And I've had some really great conversations as a result.  The best ones are the two instances that a woman has stopped us on the road and invited us to stay with her (or in her community).  We've ended up spending the day with them and it's really been life changing.  They are the reason I keep going because it reminds me how special it is.  I would have gone my whole life never having met them if I'd just driven through their state instead of bicycled through it.
Jessica:  We've had people pull over to take photos of us with all our gear.  We've also experienced the kindness of strangers that I don't think either of us really believed in before this trip.  Just a few days ago, an elderly couple payed for two nights at a campground for us, and took us out to lunch and dinner both days!  We'd never met them before, either– it was a "friend of a friend of a friend of a friend" situation.  One of the hardest parts of the trip for me has been accepting the help of strangers, knowing I don't have anything to give in return.  No one expects us to though– that's also what's amazing.
How has your journey changed since you started?
Rachel:  Quite literally, the trip has shrunk.  We (me especially) have realized the simple joy of a bed to call your own, a dresser full of clothes and a warm shower every day.  We originally planned to travel indefinitely, but now we have set a very hard end date that we can't break without loosing a lot of money.  And we're okay with this.  We know that we'll be getting back on those bikes again, just not for a year or so (aside from commuting, since neither of us has a car).  Probably just for a few weeks maximum.  That way, we'll still eventually see all that we'd wanted to see on this trip, but will still have a bed to which we can return.
Jessica:  So many things can effect a bike trip.  Anything from the weather, to the direction the wind is blowing, to the amount of sleep we've gotten, to if we're in dire need of a shower or laundry can effect how slow or fast we go.  It's been difficult to make plans for more than a few days in advance and our plans are always changing.  We were initially going to bike for 1-2 years.  Now, due to sheer exhaustion (no matter what you might believe, I swear bike touring can be monotonous after a while!) we're looking at about 9 months.
What is your biggest hope for this trip?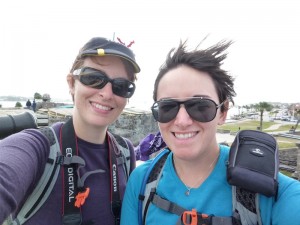 Rachel:  My biggest hope for this trip is that we really will be able to use it to keep the message going for women everywhere that taking a big leap like this is totally doable and worth it.   This is by far the most difficult thing I've done ever, and likely ever again, and while I can pretty much say I hate every day because it's that hard, I wouldn't change a thing.  I want to take that message and sing it from the mountaintops.  We have a plan for the next stage of Against The Grind that we'll announce once it's more set in stone that will do this for sure and I'm very excited about that!
Jessica:  My biggest hope for the trip is to have lots of awesome videos on our website featuring lots of amazing women!  I'd also like to make it to California in one piece.
Your story is incredibly inspiring to people. Many wish they could do what you are doing. What advice would you give to those itching to take the plunge?
Rachel:  If it's bike touring in particular that's the plunge, the simplest answer is to start by reading all the blogs that are out there.  They really helped me get over the big stuff like, "Where do we sleep?" and "Where do we go if it rains?" and "What kind of bike might I want?"  Stuff like that.  If it's anything big, just start early with the planning!  I think it really helped us to start the blog and filled it with all our thoughts and plans.  We then were able to get feedback from people who have already done something similar and amend our thoughts on things.  It also made it real, like we were now responsible for going through with our plan since the world knew about it.  And most importantly, don't let your friends and family talk you out of it.  They're just jealous you're actually getting off your butt and doing something.
My other piece of advice is to be willing to make mistakes and accept that!  We have made so many mistakes on this trip.  I think half our time is trying to make up for them and make things better by finding other solutions.  For instance, a solution could be to find an abandoned barn at mile 12 of 45 and stay there for the night despite the rats because the wind and rain are creating a hypothermia risk!  (When we really should have just stayed another night at our motel…)
Jessica:  My biggest advice is to have realistic expectations!  There are going to be days that are boring as hell, that are hot as hell, and you might even have a few near-death experiences.  Adventure is never easy.  People we meet often remark that we're "living the dream" or tell us that they're jealous of what we're doing.  I always think, "you wouldn't be jealous of us last week when it was freezing/raining/10000 degrees/insanely  windy/thundering".  There's a saying I've heard: "There are only two guarantees in bike touring: there will be hills, and there will be wind."  But not to scare you away from bike touring!  I'm still having a blast, but the best part of bike touring isn't the miles you put down but rather the people you meet and the serendipitous experiences you  have.
Also just know that despite what many blogs will tell you, you don't have to have super expensive gear to bike across the country!  Rachel and I have panniers made out of kitty litter buckets and use a tent that was on closeout sale at REI.  We've met people biking across the country on $50 beach cruisers.  No matter what your budget you can make your bike touring (or plain old adventure) dreams come true.
Planning a trip is one thing. Starting a trip is another. How did you contemplate risk and what steps did you take in order to move from your comfort zone into your adventure?
Rachel:  I wasn't really worried.  We set a date and I knew we were going to leave.  I wasn't going to have gone through a year of publicly planning, of selling my belongings, moving the things I kept across the country to my parent's house just to say, "Nope, not going today or tomorrow!"  Maybe that's the secret.  Do it all in baby steps and make those steps pretty permanent so that backing out is literally impossible.
Jessica:  I'd been saving up for a cross-country bike trip for almost a year before I met Rachel.  I voiced my dreams to lots of people.  I bought a good amount of gear (including my touring bike).  However, I'm convinced that if it weren't for Rachel basically inviting herself along I'd still be sitting at my desk job in Boston, squirreling money away, and saying "Someday I'm going to bike across the country!"  For me, I think it really took having someone else to plan this adventure with me to really get the ball rolling.  Once Rachel got involved, we got a website, started blogging, and opened up facebook and twitter accounts.  I don't think I'd ever have done any of that on my own.
What is an important reflection you have had about yourself along the way?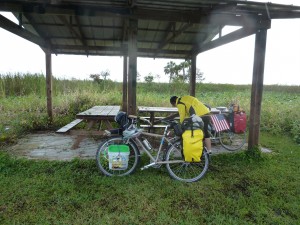 Rachel:  The thing I reflect on the most about myself as this journey goes on is how I think I've grown to be a much more open and willing participant in speaking and getting to know people outside of my current circle.  When I moved from the Midwest, where everyone strikes up conversations everywhere with anyone, to the East Coast where that doesn't happen, I loved it.  I never liked just talking to a person in a grocery line or somewhere.  This trip has forced me to talk to people even when I'm tired and beat down by the road.  It has gotten me to go out on the town with people when all I wanted to do was stay in and read.  Now I see how this is a good thing for me and I like it!
Jessica:  My biggest reflection about myself is that I'm homesick for Boston.  I miss my friends and I miss the life I had there.  I've realized now that back in Boston, I NEVER had any bad days.  I was basically relatively happy all the time.  Bike touring has shown me a lot of extremes.  There are times when I'm deliriously happy (like more happy than I could ever imagine myself being) and there are also times when I'm completely miserable.
A quote of yours that I love is when you decided to give it up in the trenches of the Everglades in Florida and rent a car out of the swamp. Rachel, you said, "You have to learn…when you've had such a break down that sometimes the solution is not to continue in the direction you are going but to find another way." Jess followed up with, "I don't think there are any rules to bike touring…there are no set regulations that people have to follow to have a successful bike tour." Please discuss.
Rachel:  I have always had a mantra in my life:  You are in control of your own life.  If you aren't happy, make a change.  And this has been incredibly reliable and important to my sanity over the years.  I know that if I am not happy that I can turn around and walk out the door and will never live with regrets.  Why beat myself up over driving ourselves out of a miserable situation?  I don't beat myself up over not finishing a book I didn't like or not staying in a job where I didn't feel fulfilled.  I'm the only person who is going to judge my actions at the end of the day, so if driving a car is the solution, then it's a great solution!
Jessica:  I'm a LOT harder on myself than Rachel.  I'm always worrying about how my actions look to other people.  Driving out of the Everglades was really hard for me because I was worried that the people reading our blog would think we were cheating or that we had failed at bike touring.  In the end, I've been able to reconcile it with the fact that this is MY bike tour.  Not anyone else's.  And you know what?  No one's said anything to us about cheating or failing.  Everyone we know is amazed we've biked over 3,000 miles.  I just had an irrational fear, I guess.
You guys recently took a break to rejuvenate and spend time with family. How did it feel to be off the bike? Was the break helpful? Did you ride while you weren't touring?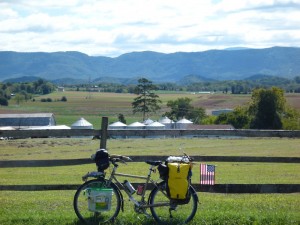 Rachel:  The break solidified my feelings about this not being a lifestyle I want anymore.  I am glad to be getting back on the bikes to finish this trip for myself and for the people who have invested their love and money into it as well, but I'll be glad to start the next stage of my life too!  It's funny because I sort of always feel like I'm just going through the motions waiting for the next stage to arrive, and I certainly felt that way before our break.  I realize now, though, that finishing is not about simply killing time before we go back to Boston this summer, it really has developed into a special event in my life to cherish.  (Even though I'm miserably sore!)
Jessica:  I think the break was nice, because it gave us both a chance to visit our parents and replace some of our warn-out clothes.  We didn't ride while we were in Wisconsin though (way too cold!).  I think we were both ready to hop back on the bikes in the end because we're really excited to check out the Western United States.
Back in Austin, you were back on the bikes. How did it feel to go to a life back on the road?
Rachel:  Austin was fun, and I really loved it, which I think surprised me because people had told me I'd love Portland, OR but I didn't really.  But we're back on the road now and out in the middle of Texas as I write this and boy is it brutal out there!  The roads are pretty much gravel, which makes for a bumpy ride.  But I know that in the end, I'll have this beautiful little thing that's mine and Jessica's alone and that makes it worth it.
Jessica:  Life back on the road is pretty good so far.  The scenery is starting to change pretty quickly, which is always exciting.  We're really entering the desert now and I'm really looking forward to the national parks we're going to be visiting very soon!
A few on the road questions: What's the best meal you've made on the road? TP Question: Crumple or fold? Any TP stories from the road?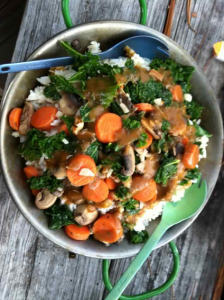 Rachel:  The best meal?  Jessica's the cook, so I can't claim credit for any of it, but there was one night when we added rice to this cheesy potato soup mix.  Jessica will roll her eyes at it because she is so sick of soup mixes it makes her ill, but that was probably the most memorable.  As for TP stories, I really only can think of how grossed out and freaked out I was when I brushed off a deer tick in the panhandle of Florida after venturing out for a wee.  I really am terrified of a bug the size of a pinhead!
Jessica:  Once I made really delicious cheesy garlic bread out of pancake mix.  Another favorite is kale sauteed with carrots, fresh garlic, lemon juice, and a ginger dressing (store bought) over rice or noodles.  I LOVE cooking with fresh vegetables.  I also really like to cook "Mexican Rice Surprise", which is really just rice, refried beans with fresh garlic, cheese, salsa, and, if we're lucky, an avocado.  No real TP stories, although I do recommend using a pee funnel (I use the Whiz Freedom) so you don't have to squat.  It's not as inconspicuous as I was hoping though– someone in Illinois honked at me very angrily as I was using it on the side of the road.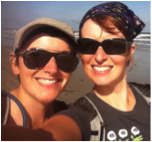 Rachel and Jessica are two independent women traveling across the country on bicycles. Part documentary, part public engagement, and part cross-country bicycle trip, they are on a mission to explore and find a "new normal." They hope to inspire other women to do the same.