Amazing Women
Doing Amazing Things: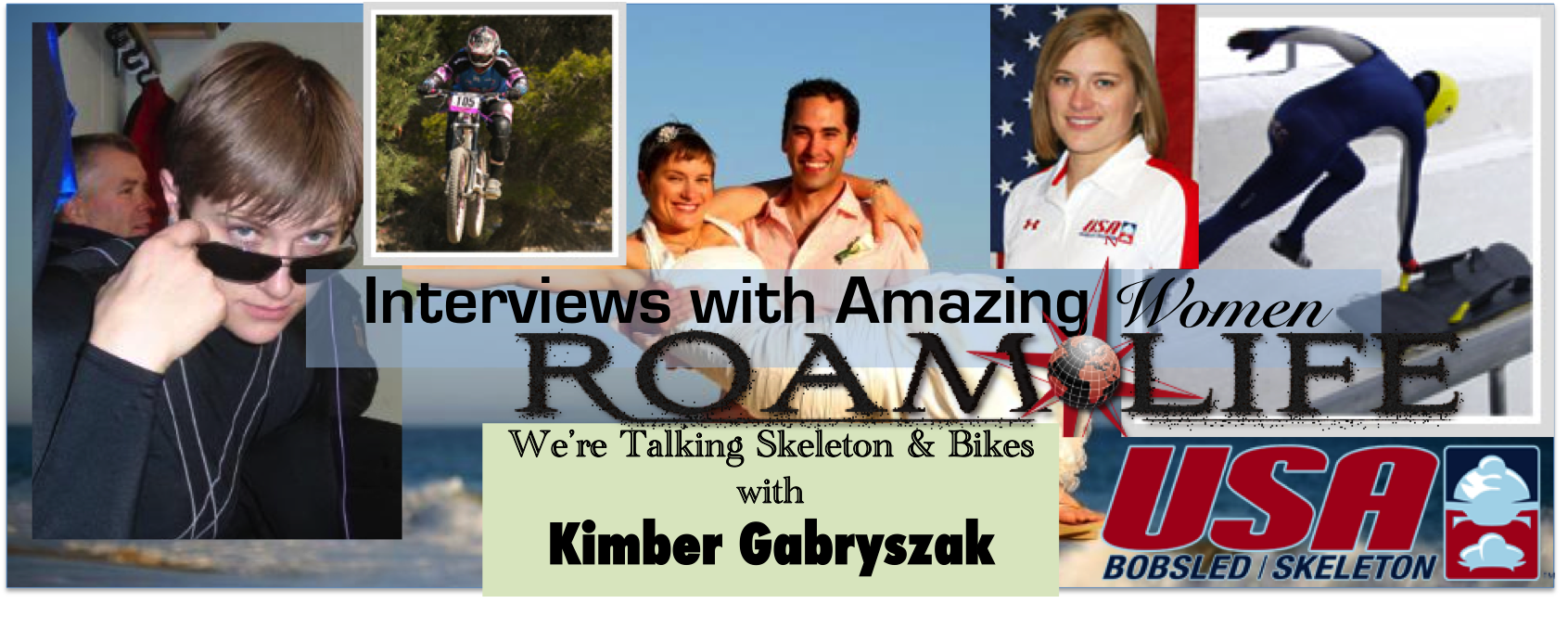 Website: http://www.teamkimber.com
Kimber is an athlete that has a natural yet friendly determination to be the best. Whether it's mountain biking, skeleton racing, or her newest hobby, curling (yes, curling!), Kimber quickly becomes competitive.  What I found interesting about Kimber is that she has tried all of these sports based on chance, invitation, and word of mouth. Kimber's adventurous spirit and fun-loving personality make it easy for you to invite her along on your journey as well. The Roam Life team was able to catch up with Kimber right after her return from her Cabo wedding.
You just got married! Your husband seems to be a big support for you in your career. Who's the lucky dude and how did the two of you meet?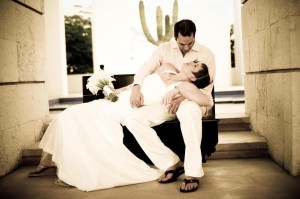 Brad [Stewart] and I met on match.com in the fall of 2004 and we have been together ever since. He's a huge support and I try to be one for him. We do skeleton together and we try to keep it balanced so that when we're both competing we try to stay out of each other's way but if one person is competing the other is their hugest fan.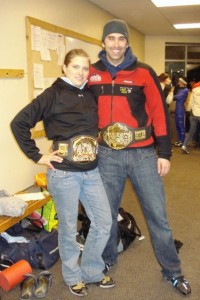 What's it like to be dating a fellow Skeleton racer?
We've been together for over 7 ½ years. Brad does a lot of new ventures and tries new things all the time. We like to travel together and scuba dive.
We went to a couple weddings last summer and realized that weddings kind of suck.
One thing that is really cute is that we adopted a dog when we were together about a year and I'll come home from work and find Brad in his office with Jean Luc (a 60 pound dog) in his lap in an office chair. Our dog is totally not spoiled (wink).
Tell us about your Cabo wedding.
It was awesome. It was perfect. We had originally planned a wedding here in Park City, Utah. When we started planning the wedding it was kind of a blessing and a curse to know a bazillion people all over the world. People we knew from work, skeleton, and family, really every aspect of our lives started merging into this huge wedding. We were trying to cut down a list of over 300 people to something manageable – like 150. We were having the hardest time ever cutting people out and scratching them off the list.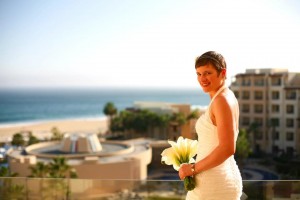 We went to a couple weddings last summer and realized that weddings kind of suck. They are great in some ways and in others they just suck. Not to mention that you don't really get to see the bride and groom so we just pulled the plug on the whole thing and booked an all inclusive resort in Cabo and didn't invite anyone except our parents. It was nice to have the parents there but we didn't invite any siblings or friends or husbands or any of the other people that we didn't even know that well. We kind of said, "You are all not invited. All of your feelings can be hurt equally."
When I was growing up, my home was 40 miles from the nearest road in Alaska. We had an outhouse and a hand pump well…
How was it to have the parents at your wedding and on your honeymoon?
My parents never have really had a real vacation so to see them relax and have fun was awesome and we all enjoyed the beach together. The two sets of parents were able to get to know each other. Three hours before the wedding we were all sitting by the pool relaxing together. It was the perfect wedding.
Speaking of your parents, you had a pretty unique childhood living in the mountains of Alaska. What was it like to grow up at the Station House?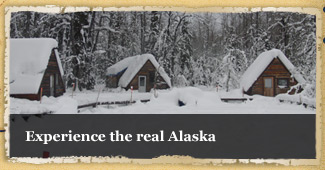 When I was growing up, my home was 40 miles from the nearest road in Alaska. We had an outhouse and a hand pump well and solar panels for electricity. Before electricity, we had ice house and ice blocks – it was very 1800's-esque. I was home schooled and didn't really have any access to sports. I didn't discover sports until my early 20's. I was always pushing myself hard academically and I think that transferred over, along with a lifestyle of hard labor (shoveling snow, cutting firewood) into athletics.
You somehow went from living in the wild forest of Alaska to joining civilization. How did that happen?
When I started college in Alaska, I was technically a high school drop out because I didn't finish home schooling. I went to community college and then the University of Anchorage. A friend and I were on a fundraising walk for a non-profit and we were rounding the bend of a major road and we were talking about where our next trip would be and decided it would be China. So the next semester I registered for a Chinese class. Fast forward a few years later and I got my Associates in Chinese and obtained an internship on a cruise ship in China!
You were a pretty rad pro mountain biker. Tell us about how you got involved in mountain biking?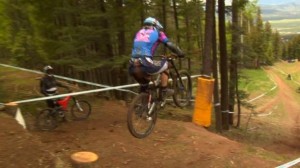 A lot of our friends mountain biked so a good friend of ours convinced me to register for a downhill race at Deer Valley on my cross country bike. It turns out I was the only beginner so won by default but my time was better than some of the sport girls so I got hooked. I got my first "squooshy" bike after that. The bike had seven inches of travel and a few of us girls went around to a bunch of races and we kept moving up in ranking and moving up again. In women's downhill mountain biking, there was a lot of camaraderie. We supported each other and really encouraged each other. It's not the same in skeleton.
In women's downhill mountain biking, there was a lot of camaraderie. We supported each other and really encouraged each other.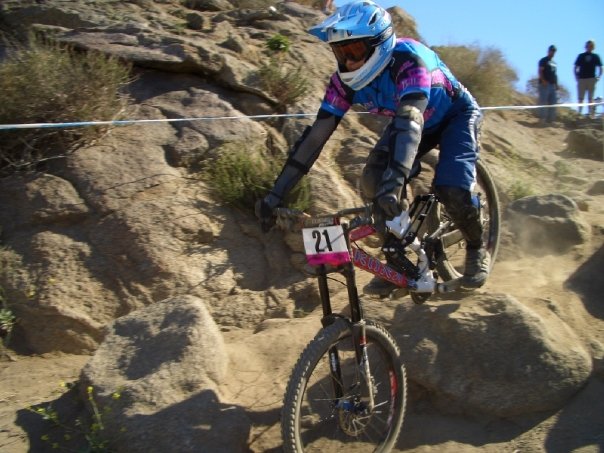 From heading downhill on a mountain bike, you ended up going head first into skeleton. At what point did your (then boyfriend) Brad convince you that pummeling head first down an icy shoot was a great idea?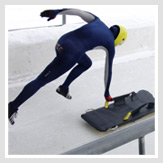 Brad and I had been dating for about 6 months and he worked at the Olympic Park part time. He came back from work one day and said, "I think I want to take this skeleton class." I didn't even know what skeleton was and said, "Yeah! That sounds fun." He couldn't talk me into it then so he took the intro class himself, which was four days of sliding. He was so excited and grinning ear to ear that he finally managed to talk me into trying it.
I was thinking, "What the hell did I just fall into?"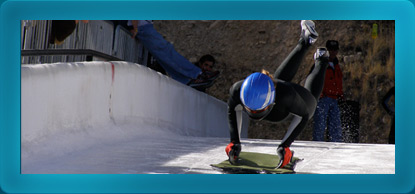 The following November I took my first run down and I was thinking, "What the hell did I just fall into?" It was the scariest thing I had done in my life. The instructor gives you a little push and you start pummeling down at 55 mph. For me, that was all she wrote. I was hooked. I joined a local club and we slid for fun and then we were getting better and better and started competing. Then, we were all of a sudden going to US national races. We thought about quitting here and there because it's really difficult to make money at skeleton and it can be expensive to compete but instead we've had to make a lot of sacrifices to keep at it.
It is so fun to skeleton and as a competitor you are an ambassador for your country. When you are at a race you are surrounded by people from all around the world. When else do you get so many different nations in a room? When you make friends and are joking around together…you really are an ambassador. The potential to go to the Olympics is phenomenal.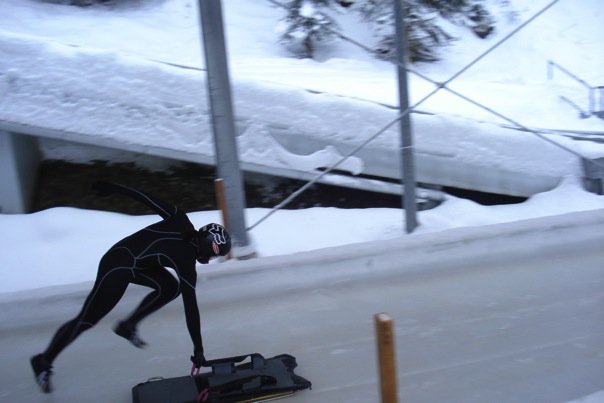 When did you realize that you were an Olympic hopeful? 
Once you do well enough at regionals (Western or Eastern), you qualify for team trials and then work up the ranks from there. The top 2 or 3 people at team trials go to the Olympics. You start thinking, "It's a possibility." If you manage to make that leap into the top loop then you know you have a chance.  One thing we encounter a lot with skeleton is that people think it is easy and that if you keep sliding and sliding you'll get better. You will, but there is also a physical component you have to have and you have to cultivate an athletic talent to make it. If you don't push yourself and train then you won't make it from the C or B group up to the A group.
I do it because I love skeleton. It's the closest thing to flying you'll ever get to.
We made the choice to really train for it. The results have shown themselves. Last year I struggled on tour because I had some hamstring issues but I was 1/10 of a second off from the puck (head pusher) which showed I had potential. I worked out 3 hours today – before work and after work. It's a huge time and energy commitment. I do it because I love skeleton. It's the closest thing to flying you'll ever get to.
Where's the most unique place you've competed?
Without hesitation, Switzerland. Every year the Saint Moritz build a track from scratch. Usually a skeleton track is concrete with a layer of ice over it and a refrigeration system keeps it all together. In Switzerland, they take ice from the river and make the track from scratch every year, purely of ice.  You slide at 85-90 mph but it feels like you aren't going that fast at all because it's so quiet and your runners feel like they aren't touching anything…you feel weightless.
 We made the choice to really train for it. The results have shown themselves.
Is it easy to get into skeleton racing?
Most people don't know what skeleton is. We, as competitors, have to first overcome the question of "What is skeleton?" in order to gain support. I started taking skeleton seriously in 2006. You pay a fee into a club for the year and you can use a rental sled. I bought my first sled at the end of 2006 and bought a new sled this last year. Thanks to help from a couple of local people and fundraising, I was able to cover half the cost of a new sled. I was also grateful to have won a grant from the Women's Sports Foundation for a portion of the sled. A sled can cost between $7,500 and $10,000.
What makes skeleton racing unique?
The fact that it is unique. You can only do it on certain tracks in the world. The rush, the speed, how challenging it is are all unique to the sport. If you turn your head one way or flex your quad and something happens, the sled moves direction while your careening down a track at 80 mph. I ski and snowboard and do all the other winter sports but skeleton is unique in and of itself. Not a lot of people get to do it.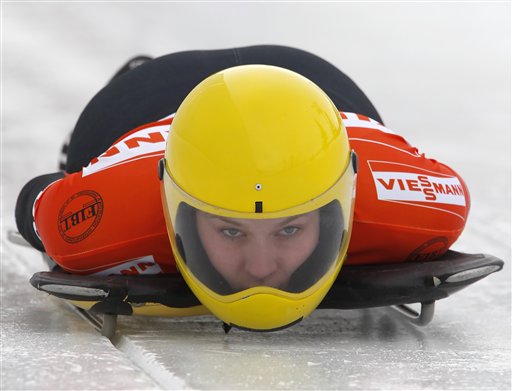 You travel a lot to compete. Any must know travel tips?
We don't get to do a lot of sightseeing for the most part. We'll drive to a race site and then have one day to settle in and train and then three days of official training and then we race and drive to the next location. Some of the coolest experiences have been in Germany and Austria during pre-Christmas time. They have crazy customs where they dress up in hand-made monster masks and run around the streets. There are parades where they bless people who have been punished. The Christmas markets are amazing. Germany and Austria around Christmas are phenomenal.
Through your travels, who have you met that has been most inspiring?
There are a lot of really inspiring people in the sport and around it. A conglomeration of small acts of kindness and helpfulness from a lot of people all over has been inspiring. Martins Dukurs is the top man in the world and is pretty much unbeatable but he'll still do things like hurry to get his sled on the truck because you have to change your runners at the top. He'll inconvenience himself a little to help you out a little and it's impressive that he'll do that. You'll see things like that all the time.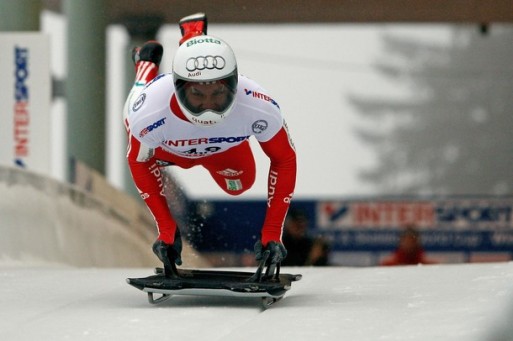 Any travel snack indulgences you tend to hide away in your pack while on the road?
There are a couple of things. One thing I travel with is Werther's originals. I love caramel. I love chocolate too but if it's chocolate with caramel I'm hosed. I also pack a little tea kettle and herbal tea. Once in a while I get a hankering for a box of Corn Chex. I love Corn Chex.
TP question: Folder or crumpler?
I'm actually both. I start off folding and I end up crumpling. I am one of those that tries to start off organized and then it just falls apart at the end.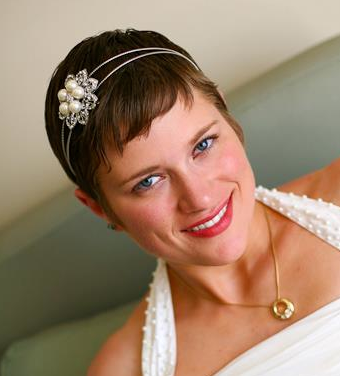 Kimber Gabryszak is a member of the US National Skeleton Team and is a 2014 Winter Olympic hopeful. She lives in Park City, Utah with her husband, Brad and her dog, Jean Luc.