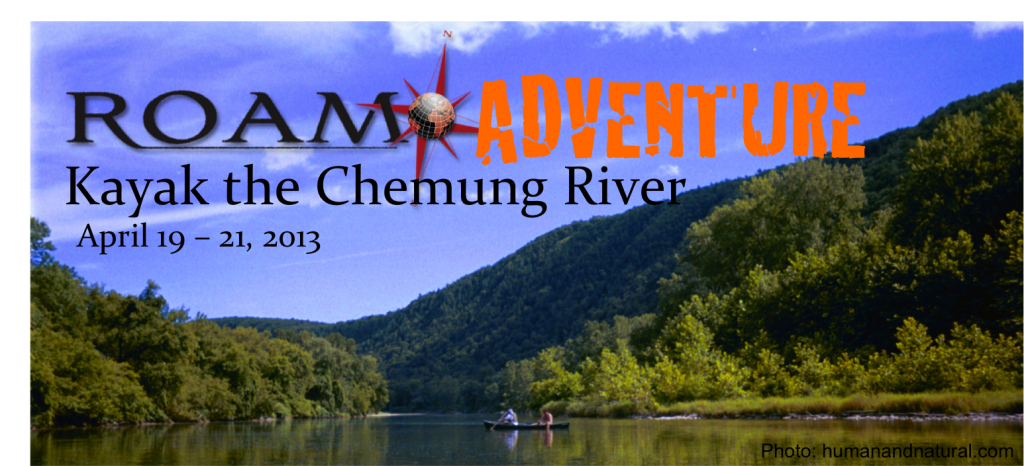 Join the Roam Life Team for a kayak trip on the Chemung River!
Sign up for a weekend getaway to Ithaca and the Finger Lakes Region.
We will all be arriving LATE on Friday evening.
LODGING: We have rented a house within walking distance of the commons that has LIMITED sleeping space. If you would like to book with us, please email the organizer! $60/night per person. Full payment required to reserve your bed!
No previous kayaking experience necessary!
Saturday we will head out on a FULL DAY trip with a certified guide from Paddle-N-More through the serene waters of the Chemung River. You'll enjoy the local wildlife of the southern tier on this calm-water tour that connects kayakers to the natural environment. We will start in Big Flats and follow the meandering river through its scenic course to the south side of Elmira. On previous trips, we have seen everything from deer to bald eagles!
Sunday will be a breakfast send-off and goodbyes and then activities on your own (free acupuncture session? farmer's market?). We have many activity suggestions and local vendor discount opportunities!
Full Day River Trip Package:$95.
This package includes:
Transportation from Ithaca, NY to the Chemung River DEC Put-in location and back.
Lunch, water, and snack
Kayak and gear rental
Certified guide
Kayak quick-start instruction
AGENDA:
Friday, April 19:
9:00pm Late arrival to vacation home and drinks on the back porch.
Saturday, April 20:
8:00AM: Breakfast at Gimme Coffee!
9:00AM: Transportation pick up to DEC drop off location
12:00PM: Lunch on the river (provided)
3:00PM: Return transportation to Ithaca downtown
7:00PM: Group dinner (location TBD)
Sunday, April 21:
9:00AM: Group breakfast and goodbyes
10:00AM: Enjoy Ithaca! We have many suggestions and activities that you can participate in.
FINE PRINT:
*All payments must be received in full to be considered a participant.
*Transportation from origination (home) location to Ithaca is to be coordinated individually.
*All contracts, agreements, and legal waivers/hold harmless documents must be signed prior to participation.
*Cancellation within ten (10) days of the event will result in a NON-REFUND.
*Preparation, disclosure of good health, and proper clothing/footwear is required.